Thiết bị cắt lọc sét công nghệ TSG và TDS
Mã sản phẩm: 012

Mô tả
Triggered Spark Gap Surge Reduction Filter (Single Phase): TSG-SRF1XXX
| | |
| --- | --- |
| CRITEC® Triggered Spark Gap Surge Reduction Filter |   |
Ordering Information
| | |
| --- | --- |
| Region | Part / Article # |
| North America | TSG-SRF163 |
| Latin America | TSG-SRF163 |
| Europe/Middle East/Africa | 700025 |
| Asia/Australia | TSG-SRF163 |
Application Information
Triggered Spark Gap Surge Reduction Filters are designed to provide high-energy surge diversion, making them ideal for primary service protection applications. The units also provide efficient low pass filtering to substantially reduce the risk of physical equipment damage by reducing the rate-of-voltage rise.
The high energy diversion ability of the spark gap has allowed the size and weight of the units to be considerably reduced.
Features
Incorporates TSG and TD Technologies – high performance protection
High surge rating – ideal for exposed critical service entrance applications
Surge Reduction Filters dramatically reduce let-through voltage – provides optimum protection
Surge Reduction Filters reduce rate-of-voltage rise (dv/dt) – improved protection for electronic equipment
Small size/weight – aids installation
Escutcheon panel – improved safety
Product Specifications
 
 
Approvals
AS3100
C-Tick
Certificate of Suitability
Back-up Overcurrent Protection
See Table
Connection Input
≤50 mm2 (1/0 AWG)
Connection Output
≤35 mm2 (#2 AWG)
Depth
170.00 mm
Dimensions (alternative)
400 mm x 300 mm x 170 mm (15.7" x 11.8" x 6.7") approx.
Distribution System
1Ph 2W+G
Enclosure
Metal, IP55 (NEMA-12)
Filtering
-40 dB @ 100 kHz
Frequency
50/60 Hz
Heat Dissipation @ IL
13 W
Height
400.00 mm
Humidity
0 % RH [Min]
95 % RH [Max]
Impulse Current, Iimp
50 kA 10/350 µs
Max Continuous Operating Voltage Uc - AC
275 V
Max Discharge Current
130 kA 8/20 µs (NEMA-LS1 per mode)
Max Line Current, IL
63.0 A [Max]
Mounting
Wall mount
Nominal Voltage - AC
220 V [Min]
240 V [Max]
Product Series
CRITEC® Triggered Spark Gap Surge Reduction Filter
Protection Modes
All modes protected
Stand-off Voltage
440 V
Status
Change-over contact (Form C dry), 125V/~600mA. 4kV isolation
Primary Protection LED
Tertiary Protection LED
Surge Rated to Meet
ANSI®/IEEE® C62.41.2-2002 Cat A, Cat B, Cat C
ANSI®/IEEE® C62.41.2-2002 Scenario II, Exposure 3, 100 kA 8/20 μs, 10 kA 10/350 μs
System Compatibility
TT
TN-C
TN-S
Technology
Triggered Spark Gap
In-line series, true L-C low pass sine wave tracking filter
40kA 8/20µs tertiary TD Technology
Voltage Protection Level (8/20µs)
L-N
262 V @ 3 kA
247 V @ 20 kA
Weight
11.00 kg
Width
300.00 mm
CRITEC® TSG-SRF Series - Triggered Spark Gap SRF
ERICO's core state-of-the-art technologies, including Triggered Spark Gap (TSG) and Transient Discriminating (TD) have been combined with efficient low-pass filtering to provide premium performance Surge Reduction Filter Technology.
Features
Incorporates TSG and TDS technologies
High surge rating 130kA (8/20µs), 50kA (10/350µs)
Designed for lowest possible let-through voltage under all surge magnitudes
Unsurpassed lifetime
Housed within a compact enclosure with escutcheon panel for personnel safety
High temporary over-voltage withstand to ensure safe operation and extended lifetime in real-world conditions
Designed to both the IEC and UL standards
Approved to AS3100, C-Tick, Certificate of Suitability
Applications
Surge Reduction Filters should be used at the point-of-entry to a facility for protection of sensitive equipment, or installed downstream of the point-of-entry diverters to protect dedicated systems and equipment.
More Information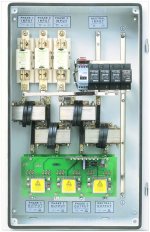 Ordering Information
| | |
| --- | --- |
| Order Code | Description |
| TSG SRF140 | TSG, SRF, 1 PH, 40A, 220 to 275V |
| TSG SRF163 | TSG, SRF, 1 PH, 63A, 220 to 275V |
| TSG SRF1125 | TSG, SRF, 1 PH, 125A, 220 to 275V |
| TSG SRF340 | TSG, SRF, 3 PH, 40A, 220 to 275V |
| TSG SRF363 | TSG, SRF, 3 PH, 63A, 220 to 275V |
| TSG-SRF3125 | TSG, SRF, 3 PH, 125A, 220 to 275V |
| TSG SRF3200 | TSG, SRF, 3 PH, 200A, 220 to 275V |
| TSG SRF3400 | TSG, SRF, 3 PH, 400A, 220 to 275V |
| TSG SRF3630 | TSG, SRF, 3 PH, 630A, 220 to 275V |
| TSG SRF31250 | TSG, SRF, 3 PH, 1250A, 220 to 275V |
| TSG SRF32000 | TSG, SRF, 3 PH, 2000A, 220 to 275V |
---